What Is Occupational Therapy? An Analysis of 15 Prominent Definitions
When someone asks me what I do for a living and I tell them I'm an occupational therapist, about 75% of the time I get a blank stare before I have to describe to them what an OT actually is.
Part of the purpose of My OT Spot is to help bring awareness to the field of occupational therapy. We want others to know exactly what we do and have as much of an appreciation for the profession.
The more occupational therapy gets out into the spotlight as a critical component of the health care system, the more people will get proper treatment and more interest will come into the profession to spur the next generation of OTs.
Explaining OT Can Be Tricky
When I first started OT school, I used to use simple analogies to help people understand what OT is.
For example, you might hear something like "OT is similar to physical therapy but with a focus on self-care, too" or "Physical therapy teaches people how to walk. Occupational therapy teaches them how to dance."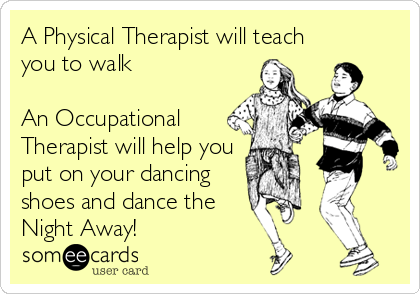 These short-hand explanations are great, but don't always do the full spectrum of OT justice. I could remember feeling like I didn't really give them a sense of EVERYTHING it is an occupational therapist does.
As I thought more about it, I realized that it is somewhat tricky to nail down on its own. You can find official definitions from AOTA, but more often than not people are using their own words to describe what occupational therapy is.
I decided to take 15 prominent occupational therapy definitions from the web and analyze them to see what the common threads were. I wanted to show a truly comprehensive definition of what occupational therapy is.
While there are sources out there that briefly answer the question of "What is occupational therapy?", I think this article's approach will offer unique value by aggregating and synthesizing the most prominent definitions out there. Sometimes, you read something that is overly wordy and sounds really vague. I want to boil all this down to its essence.
So What is Occupational Therapy? Here are 5 Major Components:
At a high level, what I found is that the definition of occupational therapy breaks down into 5 major components:
In the 15 definitions I reviewed, there also was often some other qualifying information and examples provided. Each time wording from a particular definition is used, you will see a link to the web page in the text.
First, What Is It?
About half of the definitions use a specific term to describe occupational therapy. The terms used suggested that occupational therapy is a:
If you take all of these in aggregate, you get a basic explanation that occupational therapy is a…
"Health care and rehabilitation profession."
You can think of this as being the two-second definition. You might use this if you're standing around in a group and just want to give a hint of what occupational therapy is without going into a ton of detail.
Who Does Occupational Therapy Benefit?
Diving deeper into these definitions, all 15 addressed in one way or another who occupational therapy is meant to help.
The first aspect of "who" deals with the question of "People of what age receive occupational therapy?" All definitions that referenced age made it clear that it is for people of all ages across the entire lifespan – from infants to older adults.
The second aspect of "Who does OT benefit?" addresses what type of medical condition patients are experiencing when they are prescribed OT.
First and foremost, it is people who need specialized assistance. Of all the wording used in these definitions, it was most commonly characterized by the type of disability:
Mental + Cognitive
Emotional + Social
Physical + Sensory
People receiving occupational therapy are also characterized based on what happened to them to cause the mental, social, emotional, or physical disability. The most common underlying causes were:
Illness
Injury
Trauma
Surgery
Stroke
Depression
Anxiety
Autism Spectrum Disorder
Developmental
Defined more generally, occupational therapy is for anyone that fits this description:
People that have experienced a change in ability to fully participate in chosen activities due to a change in health. Activities may include paid or unpaid work or leisure time.
One definition was extremely broad in saying that occupational therapy benefits anyone who wants to improve health or happiness. However, this might be a little too vague from a clinical standpoint.
In total, it is anyone who requires mental, emotional, social, or physical assistance in their lives.
What Do Occupational Therapists Do?
This was an interesting part of the definition. Every definition made a claim as to what exactly occupational therapy exists to do for society and individuals who receive care.
There were 4 common themes across all definitions when describing what OT aims to accomplish with patients. Occupational therapy aims to:
Engage in important and meaningful activities the patient wants/needs to do.
Develop, recover, or maintain skills needed to do the everyday "occupations" of life (also referred to as activities of daily living or ADLs). Examples of ADLs include: getting dressed, bathing, grooming, eating, toileting, cooking, driving, leisure, recreation, and work skills.
Achieve independence and independent living.
"Live life to its fullest."
The highest level reason that OT exists is to allow people of all ages to lead independent, productive, and satisfying lives.
The way in which it helps people accomplish this goal is by helping them to engage in activities they want and need to do.
When the person can do what they need and want to do, they will hopefully be able to lead independent lives which will ultimately allow them to achieve the higher level goal of "Living life to its fullest."
How is This Accomplished?
The next component of the definition I reviewed focused on "how" occupational therapists ultimately achieve the goal of living life to its fullest.
Evaluations and Goal Setting
The first common thread in all definitions addressed the initial individual occupational therapy evaluation and setting of goals. Based on the evaluation, a custom intervention plan is designed to improve the patient's ability with daily activities. Setting goals for where the client should be at the end of a defined period of time is critical in tracking and showing progress.
Several definitions mentioned a holistic approach to look at the reasons a client's participation in activities has been impacted.
What an Occupational Therapist Therapist Actually Does
Next, to answer the question of "how" exactly this is done:
Patients are treated through the therapeutic use everyday "occupations" or activities for work, self-care, and leisure. The therapist is an expert at identifying and either eliminating or adapting environmental barriers to independence and participation in daily activities.
Occupational therapists know how to approach modifying the task, teaching the skill, and educating the client/family in order to increase participation.
It was noted by Kids Health that sometimes people don't realize occupational therapy is for children since it is not immediately apparent that kids have important occupations too. Along with self-care, their most common occupations are learning, playing, and socializing.
Evaluate the Outcomes
The last aspect focuses on the follow-up after the intervention and therapy plan of care has taken place. The OT performs an outcomes evaluation (also known as a progress update) to ensure the goals are met. If the goal is not met, the OT may change the intervention plan.
The OT always keeps meticulous records on the patient's progress to make the outcomes thorough and detailed.
Where is Occupational Therapy Practiced?
Five of the definitions referenced specific settings where occupational therapy is most commonly practiced. This includes:
Health Care Facilities

Hospitals
Nursing facilities
Rehabilitation centers
Outpatient clinics
Physicians' offices

Community Locations

Schools
Homeless shelters
Community clinics
Return to work programs
Prisons

Private Organizations

Private practices
Corporations
Executive health centers
Wellness resorts

Home health (in the patient's home)
_______________________
After reviewing all of these occupational therapy definitions, the most common phrase that I found throughout was around how occupational therapy "helps people."
At its most fundamental level, I believe that is what we are doing as occupational therapists each and every day. This is what makes this profession so rewarding and meaningful to me.
It's what I love most about being an occupational therapist, and it's what I think everyone (including those unfamiliar to OT) can relate to and understand.
Sources
AOTA – About OT
http://www.aota.org/about-occupational-therapy.aspx
AOTA – What is OT
http://www.aota.org/conference-events/otmonth/what-is-ot.aspx
University of South Carolina
http://chan.usc.edu/about-us/os-and-ot/what-is-ot
Ithaca College
http://www.ithaca.edu/hshp/depts/ot/faqs/whatisot/
Kids Health from Nemours
http://kidshealth.org/en/parents/occupational-therapy.html
Explore Health Careers
https://explorehealthcareers.org/field/occupational-therapy/
National Board Certification of Occupational Therapy
http://www.nbcot.org/about-occupational-therapy
Live Science
http://www.livescience.com/42923-occupational-therapy.html
Wikipedia
https://en.wikipedia.org/wiki/Occupational_therapy
U.S. Government Bureau of Labor (BLS)
http://www.bls.gov/ooh/healthcare/occupational-therapists.htm
US News
http://money.usnews.com/careers/best-jobs/occupational-therapist
Canadian Association of Occupational Therapists
https://caot.ca/site/about/ot?nav=sidebar&banner=1
Sensory Processing Disorder
http://www.sensory-processing-disorder.com/what-is-occupational-therapy.html
Pacific University Oregon
http://www.pacificu.edu/future-graduate-professional/colleges/college-health-professions/areas-study/occupational-therapy/what-occupational-therapy
NYU Steinhardt
http://steinhardt.nyu.edu/ot/definition/
This post was originally published on July 26, 2016 and updated on March 5, 2023.